When my wife and I were dating, there was an Italian restaurant we used to visit frequently. The food was good and the conversation was always great (especially after splitting a bottle of wine). But I have to admit, with busy schedules and a four-year-old at home, we rarely have an opportunity to have a leisurely dinner together.
As part of my effort to win husband of the year, I decided to take a crack at making a special dinner for two. I stopped by Albertsons on the way home from work and grabbed some ingredients for Chicken Marsala, one of our favorite dishes from the Italian place. I didn't have time to make the dish from scratch, so I made things easy by picking up a ready made salad, the Marsala Campbell's Skillet Sauce, some pre-trimmed chicken, bread, and a large bottle of wine.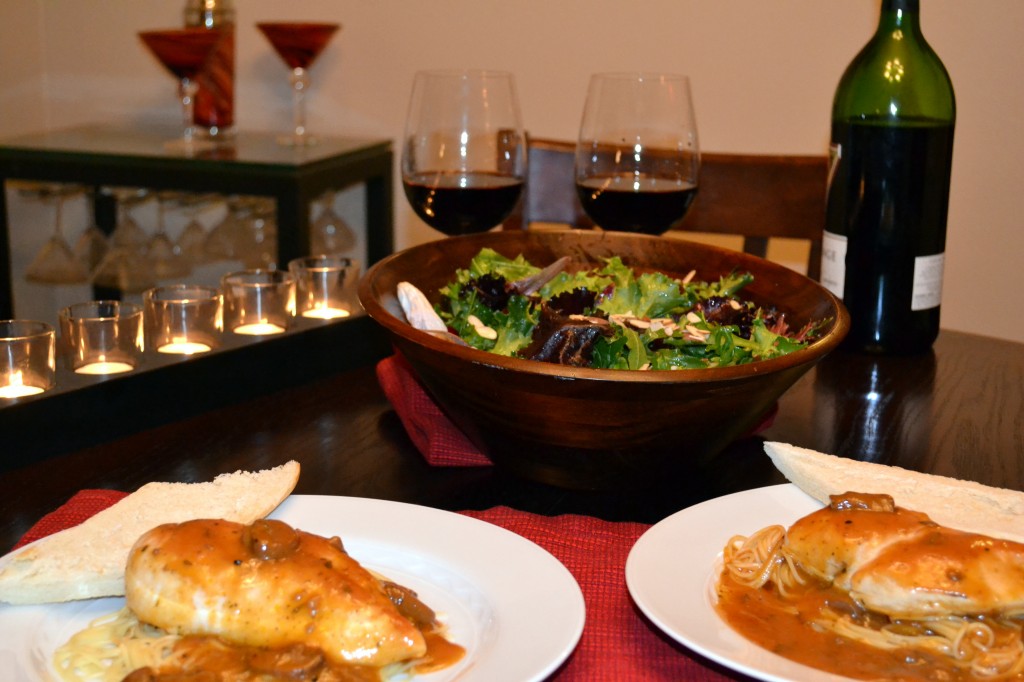 When I got home, making dinner was really easy and I received far more credit than I deserved when my wife saw the final product. I basically just had to cook the chicken (I purchased the pre-trimmed chicken breasts to save on prep time) and then added the Campbell's Marsala sauce. It only took about 15 minutes to get the chicken together.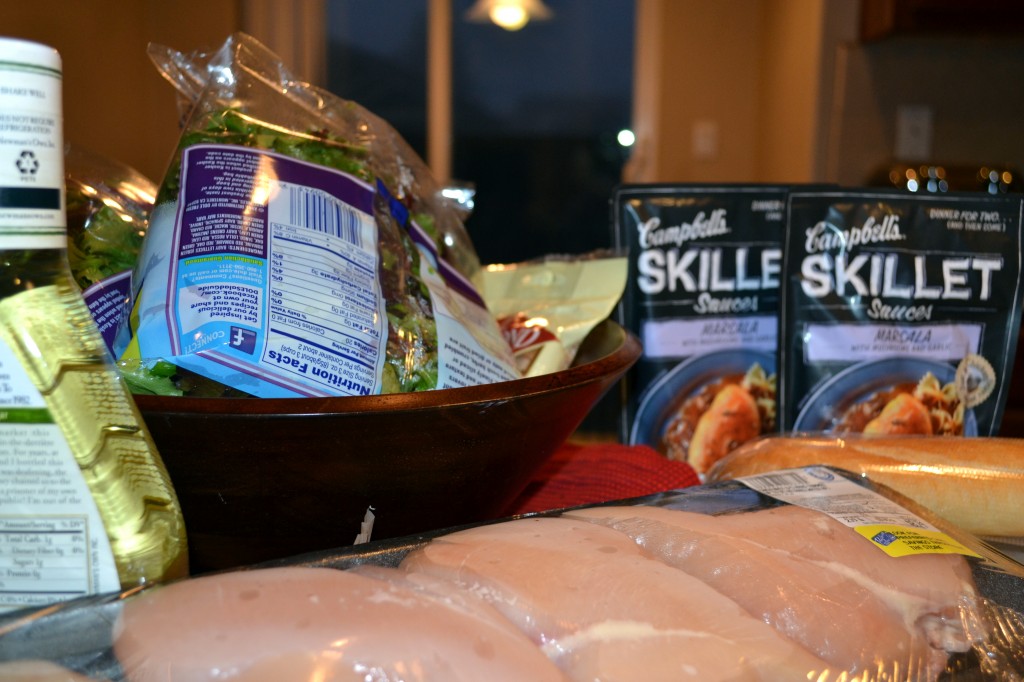 While the chicken was cooking, I boiled some water and made angel hair pasta (because that is what I remembered from the Italian restaurant). I also toasted some French bread, got the salad ready, lit a few candles, and popped open that bottle of wine. Tossing a few almond slices on top of the salad is an easy way to gussy it up.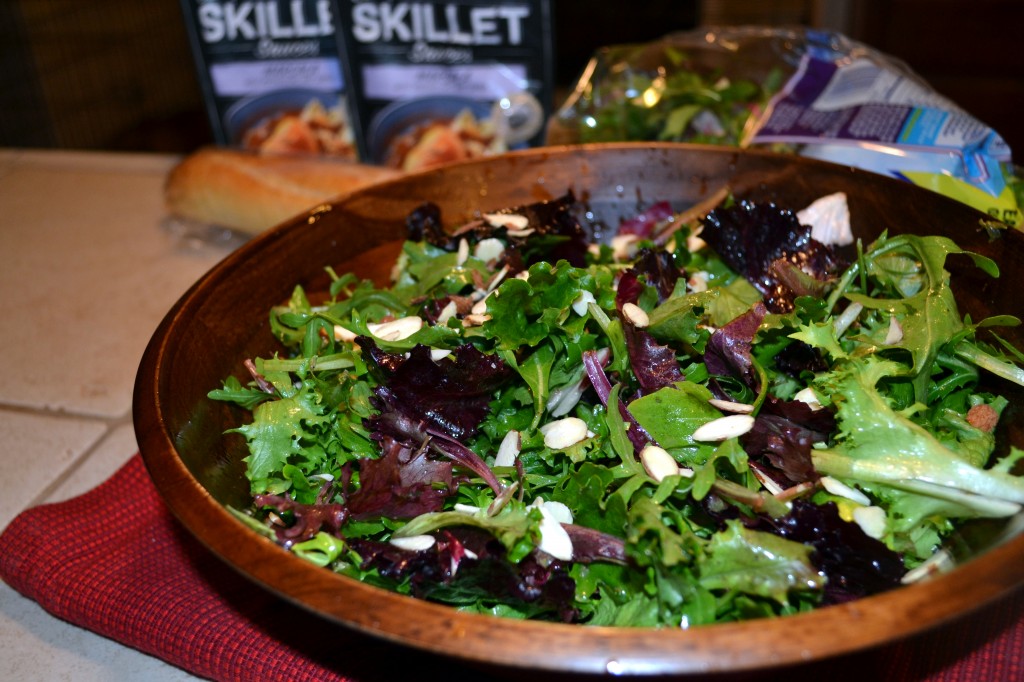 It turned out to be a nice, intimate dinner during the week. It usually would take a lot more time to put something like this together, but using a few pre-made items and the skillet sauce, I was able to pull off dinner for two in record time.
A couple tips when shopping: The Campbell's Skillet Sauce can be found in different places depending on which store you visit. At Albertsons, I found it near the broth section. I have seen it at a few other stores near the boxed meals or in the gravy section. If Chicken Marsala isn't your thing, they also have the ready made sauces in Creamy Chipotle, Fire Roasted Tomato, Toasted Sesame, Scampi, and Thai Green Curry.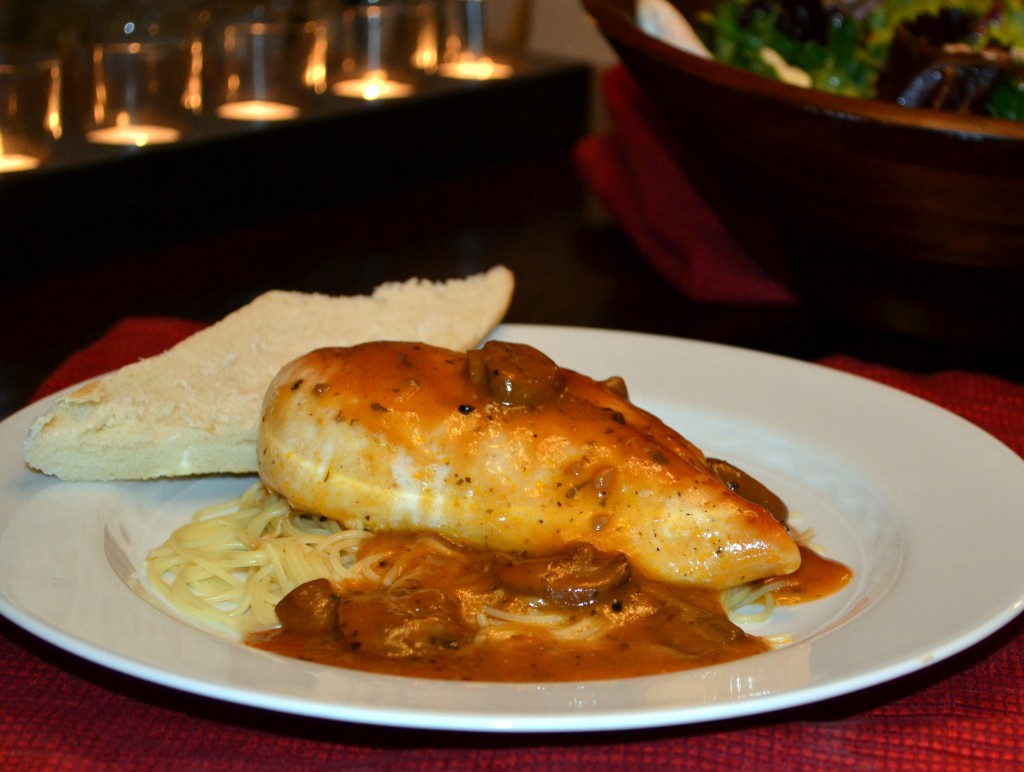 Another tip is to grab a coupon from Campbell's Facebook page so you can save $1 on your purchase. Through January, Albertsons has a promotion where you can save $2 if you buy the Sanderson Farms chicken with the Campbell's Skillet Sauce. I saved $3 on my shopping trip by combining these offers.
When setting up an impromptu dinner for two, make the extra effort to set the table instead of eating on the couch. Having a chance to talk over a glass of wine is one of the best parts of an intimate dinner. It is hard to do that on the couch with the TV on. Also, don't overlook the magic powers of candles. If you are a bad cook, the dim lighting makes everything look better. Lighting a few candles is also an easy way to get bonus points without much effort.
My favorite little Italian restaurant might be hundreds of miles away, but it was really easy to cook up a romantic dinner for two in just a few minutes.
I am a member of the Collective Bias®  Social Fabric® Community.  This shop has been compensated as part of a social shopper insights study for Collective Bias®  and Campbell's #cbias #SocialFabric" #Dinnerin15. Of course, all opinions are my own.