As a child, Easter Sunday was a big event. It was almost on par with Christmas. My siblings and I would get up early to track down Easter eggs. We would then get dressed in our fancy clothes for church and would take our annual family photo. When we arrived back home, we always had an elaborate Easter meal that rivaled Thanksgiving dinner.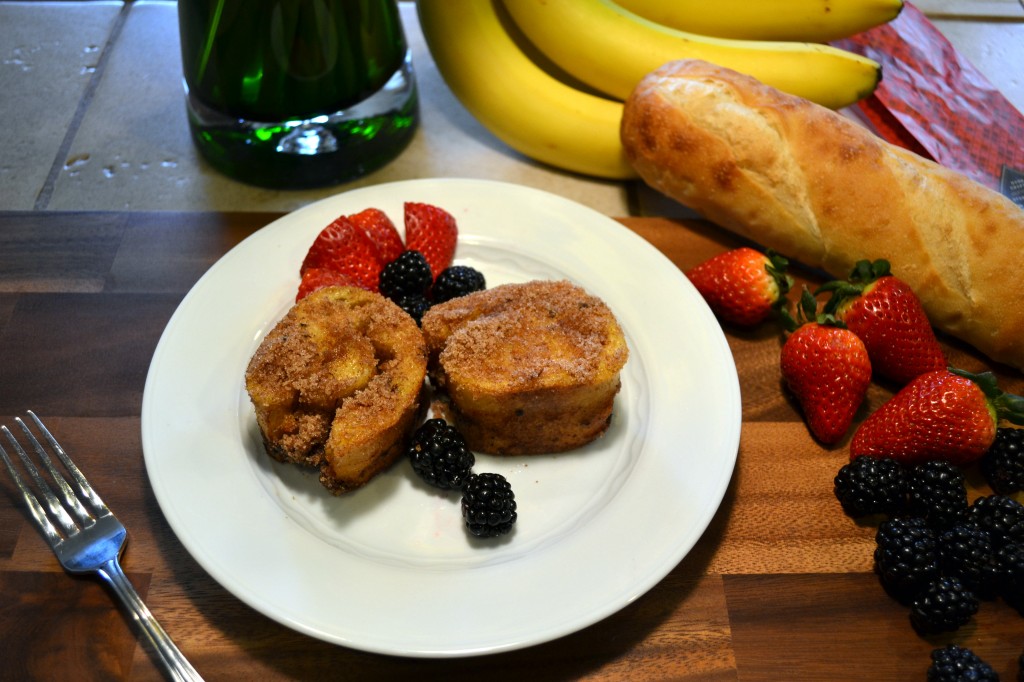 Easter remains a special day for me and my family, but we keep things much more low key these days. The traditional egg hunt remains part of our day. We also have a special meal, but opt for a brunch instead of an elaborate meal. One of my favorite items to make is cinnamon French toast, which is easy to prepare and always a hit with the family.
For our Easter meal, I used the Ecce Panis European Baguette to create smaller pieces of toast. The small slices of bread made it perfect for a brunch menu item.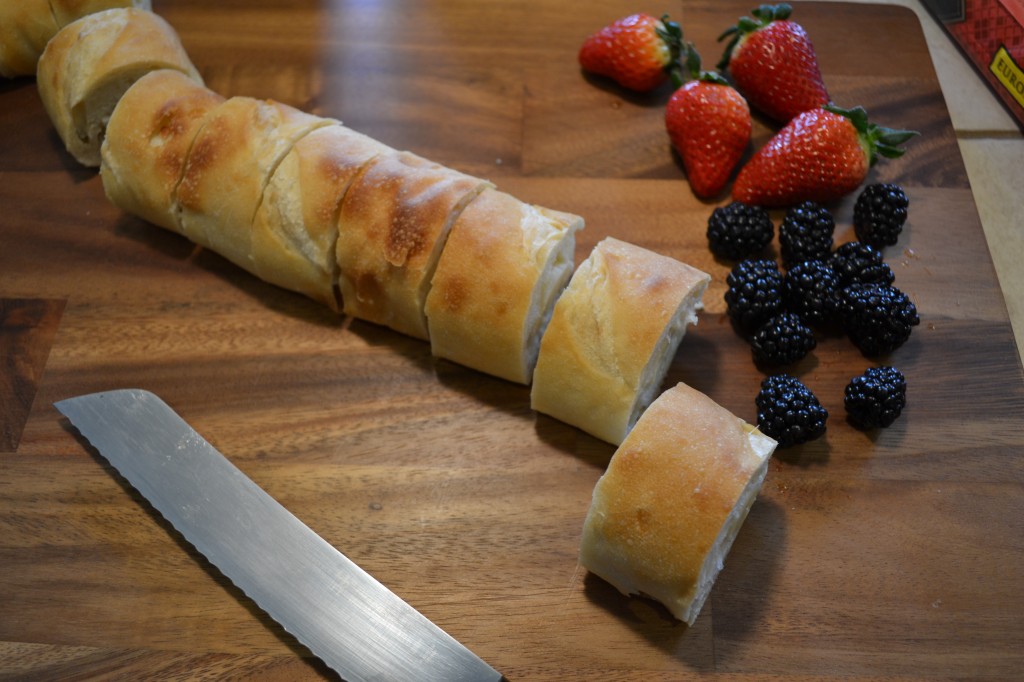 The toast is stuffed with banana slices. To do this, slice a one-inch pocket in one side of your bread. Cut the banana in half crosswise and then split each piece lengthwise before stuffing it into the bread.
For the batter, you'll combine the eggs, milk, sugar, and cinnamon. The dipped bread then gets fried in oil for a few minutes until lightly browned. When frying the bread, you will want to keep the oil at about 350 degrees. This can be tricky, so I recommend using a candy thermometer to keep an eye on the temperature. Keep a close eye on it and flip it over halfway to ensure it cooks evenly on both sides. The dish is finished with a sprinkle of the cinnamon and sugar. It only takes a few minute to prepare and is always a hit with the family.
The choice of bread makes all of the difference when creating this dish. On a regular weekend, I will make this using a larger sized loaf. For our Easter meal, the Ecce Panis European Baguette made more sense because of the loaf size. Regardless of what size bread you use, just make sure to use a good quality product. During our last trip to Walmart, we found several types of quality breads in the bakery section. So skip the stuff in the sandwich bread aisle and get the good stuff. To save on your purchase, download this coupon for $0.55 off Ecce Panis breads.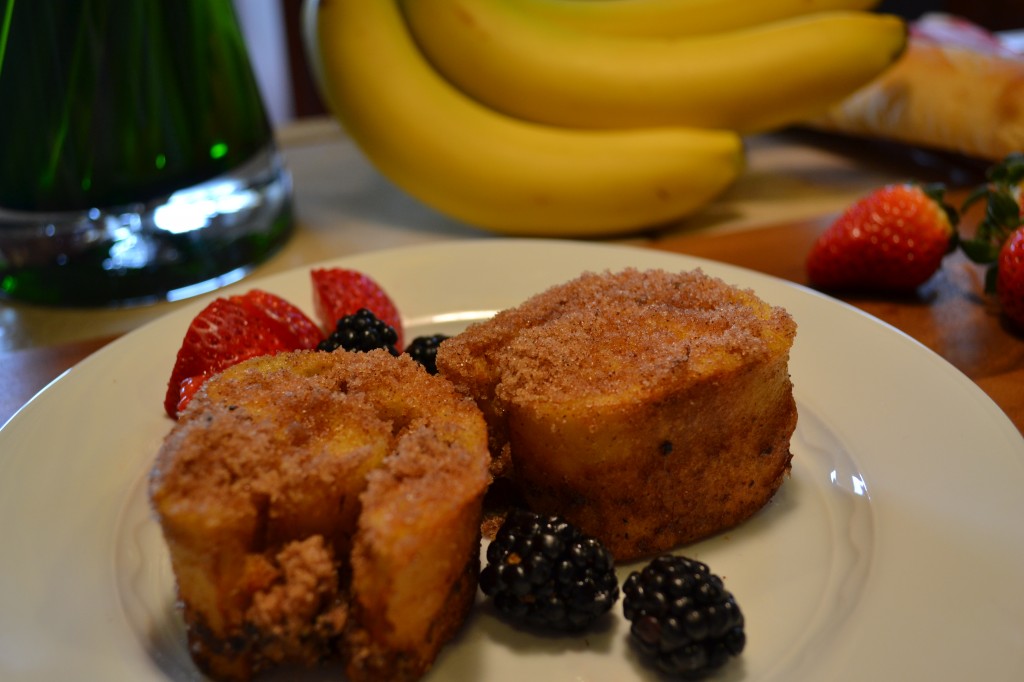 As with any holiday, the traditions are what make it special. The morning Easter egg hunt is always fun (especially if my son shares his candy) and the family meal is always a highlight. But most of all, I enjoy the chance to spend a little extra time with my family while we enjoy a special day together.
Banana Stuffed Cinnamon Sugar French Toast
Delicious banana stuffed cinnamon and sugar French toast that your family will love.
Ingredients
Sugar-Cinnamon Ingredients:
¾ cup granulated sugar
2 teaspoons cinnamon
Batter Ingredients:
4 large eggs
1⅓ cup whole milk
¼ teaspoon cinnamon
1 tablespoon granulated sugar
Toast Ingredients:
Canola oil, for frying
1 loaf bread
2 large bananas, peeled
Instructions
Cinnamon-Sugar Preparation
Mix sugar and cinnamon in medium bowl (large enough to roll toast) with a fork until thoroughly blended. Set aside.
Batter Preparation
Whip eggs in medium bowl (large enough to dip toast) until well beaten. Add milk, cinnamon, and sugar. Mix well and set aside.
Toast Preparation
Preheat oil to 350 degrees F in a large pot or a deep fryer. (If using a large pot, use a candy thermometer to make certain the oil does not get any hotter or it will burn.)
Slice the bread into three-inch-thick slices.
Cut each banana in half crosswise, then each piece lengthwise.
Place a bread slice flat on the counter and cut a one-inch pocket in the center of the bread (do not cut all the way through) to stuff half a banana into; repeat with each bread slice.
Dip stuffed bread into batter, covering both sides, allowing excess batter to drip off bread and place carefully into hot oil.
Cook 4-5 minutes until golden brown. Turn toast over after 2 minutes and cook for another 2 minutes on other side. Remove and drain excess oil.
Roll toast in cinnamon-sugar. Repeat for each piece of toast.
 I am a member of the Collective Bias®  Social Fabric® Community.  This shop has been compensated as part of a social shopper insights study for Collective Bias®  and Ecce Panis #EccePanis #cbias #SocialFabric