This is a sponsored post written by me on behalf of Mobil 1 at Walmart. All opinions are my own.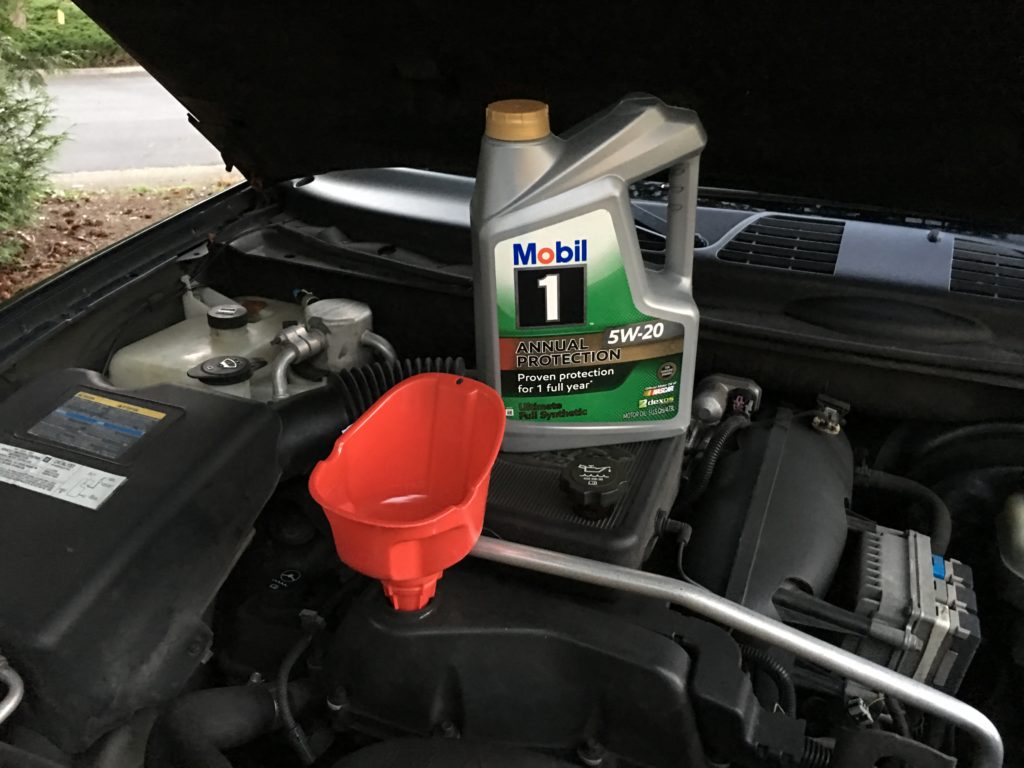 If no one has shown you the basics, car maintenance can be a confusing and intimidating process. The places that offer a quick oil change thrive on this and often push unnecessary services on people who trust that the repairs are necessary.
Mechanics certainly have their place, as there is no way that I could rebuild a transmission, but most people would be surprised to find that basic maintenance is easy to do and can be completed on your own at a low cost.
I've partnered with Mobil 1 to share a few DIY car maintenance tips that you can handle. The process is even easier when you order your supplies, including the motor oil online from Walmart.com.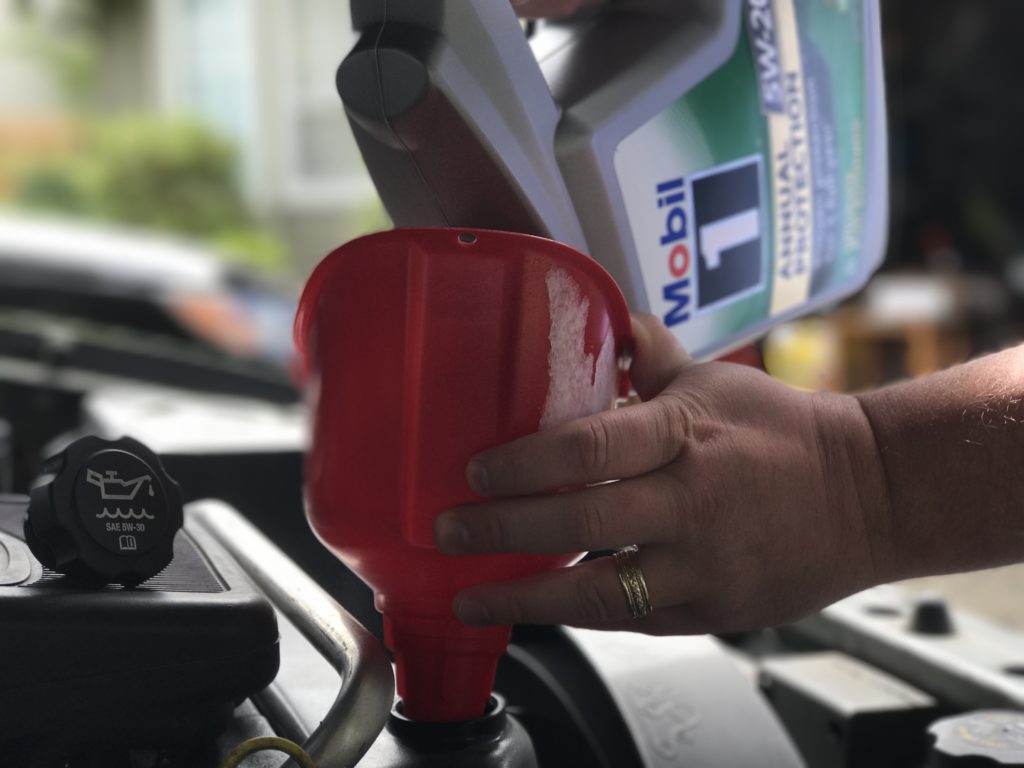 Oil and Oil Filter
Tools You Need: Ratchet, oil filter wrench, oil pan, funnel, gloves
Time to Complete: 30 to 45 minutes
Estimated Cost: $10 for the filter, $40 for 5 quarts of oil
Changing your oil every 3,000 miles used to be standard practice, but with Mobil 1 Annual Protection motor oil, you can go a full year between oil changes. Mobil 1™ Annual Protection motor oil gives the benefit of one oil change a year, while also maximizing engine wear protection and preventing harmful deposits. Best of all, you can save time and money by handling an oil change yourself.
I ordered a 5-quart bottle of Mobil 1™ Annual Protection motor oil, a new Mobil 1™ Extended Performance oil filter, an oil pan, and a wrench from Walmart.com, because I am busy during the week and wanted to skip the hassle of running errands on the weekend. Everything was delivered to my house, so I had it ready to go when it was time to do some maintenance on my car.
To get started, you will need to lift your car with a jack (to give you room to get under it), so make sure you're comfortable with safely handling a jack. Once you are underneath the car, you find your car's oil pan (it is easy to spot) and then you unscrew the oil drain plug. This is where your drain pan comes in, and I recommend paying a couple dollars more for a larger pan that can hold several quarts of oil and can be emptied easily.
After your oil is drained, look in your car's engine compartment for the oil filter and use your wrench to loosen it. You can then unscrew it by hand, being careful as some residual oil will come out from this.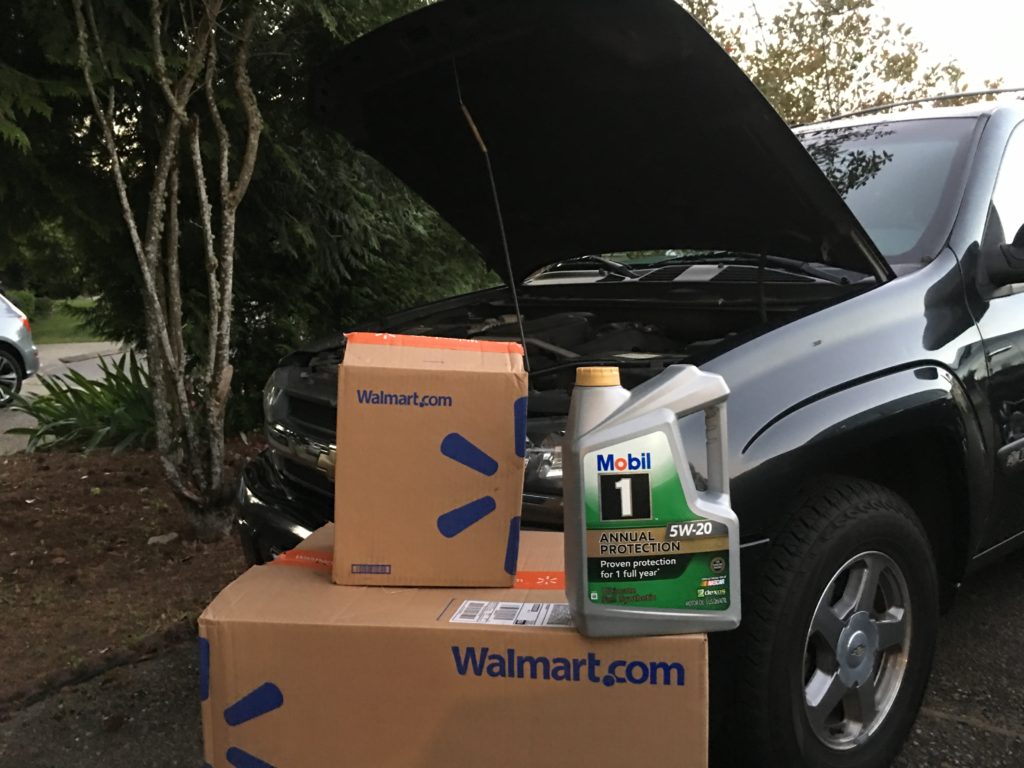 In addition to using Mobil 1™ Annual Protection motor oil, the use of an Extended Performance oil filter will also protect engine systems for up to 20,000 miles. Using Mobil 1™ Annual Protection with a Mobil 1™ Extended Performance oil filter can give your car proven protection for up to 1 full year, or 20,000 miles, whichever comes first. Before you screw on the new filter (hand tighten only), lubricate the rubber gasket with some of the new motor oil. This helps with the seal.
You can then fill the engine with new oil, using your funnel. Use the car's dip-stick to double check that you have added enough. Walmart will accept your discarded motor oil for disposal at no charge.
Changing your oil is the dirtiest job on this list, but it might be the most rewarding too.
Air Filter
Tools You Need: None
Time to Complete: 10 minutes
Estimated Cost: $16
A new air filter is one of the most common add on items at a quick oil change shop. The technician shows you the dirty air filter, which often looks horrible when it is covered in dust. They usually offer to change it for around $50, which is a crazy amount when you realize how simple of a DIY task this can be.
Your air filter can be found under the hood of your car, and it is typically inside a black rectangular box with clips on the side. Car manufacturers usually make it easy to find and open the air filter compartment without the use of tools.
You just simply take the old filter out, put the new one in the box, and close the lid. It is about 10 minutes of work, and you will save a ton by doing it yourself. For extra savings in the long run, you can extend the life of your air filter by blowing some compressed air on it (every month or two) to clear out any debris.
Windshield Wipers
Tools You Need: None
Time to Complete: 15 minutes
Estimated Cost: $20
It rains most of the year in Seattle, which means that wiper blades need to be replaced more often. Replacing the wiper blades only takes a few minutes, and you can save yourself the trip to the auto parts store by ordering the wipers on Walmart.com. Life is much simpler when things arrive like magic on your doorstep.
Wiper blade installation can differ from car to car, but most wiper blades have clear instructions on the packaging. Many of them even have photos that show the step-by-step process. You simply lift the blades, as if you were washing your windshield by hand, and detach the rubber blades from the metal arm. On my car, the blades are attached with a little plastic clip. You just reverse the process when installing the new blades. After you do it once, you'll never pay someone again to do this for you. The process is just that easy.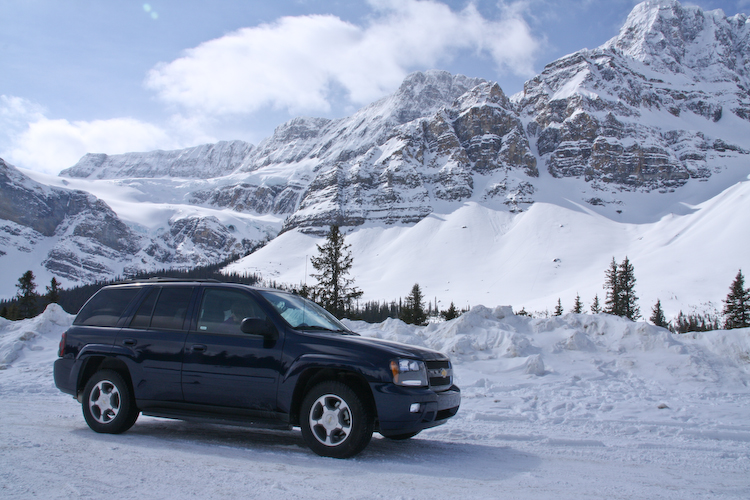 Spark Plugs
Tools You Need: Ratchet or socket wrench, 12″ socket extension, spark plug socket
Time to Complete: 20 to 30 minutes
Estimated Cost: $10 to $15
Changing your spark plugs is more work than changing wiper blades or your air filter, but it is something you can DIY if you are looking to save money on repairs. It may seem like an intense project, but it is straightforward if you slow down and take your time. Don't rush the process, as you need to install the replacements in a specific order.
You should be able to locate your spark plugs fairly easily, because they're attached to thick rubbery wires. You will find either four, six, or eight plugs, depending on how many cylinders your car has.
Start by removing the wire to the first spark plug only. Don't remove all of the wires at once. Your spark plugs are installed in a certain order, which you need to maintain.
Use your spark plug socket and extension on your ratchet to remove the first spark plug. Install the new spark plug, screwing it in by hand at first and then tightening it with a wrench for a snug fit. Do not over-tighten. Then re-attach the spark plug wire.
Repeat these steps for each spark plug, one at a time. If you buy the right plugs, you won't have to worry about "gapping" the plugs, because they'll come pre-gapped.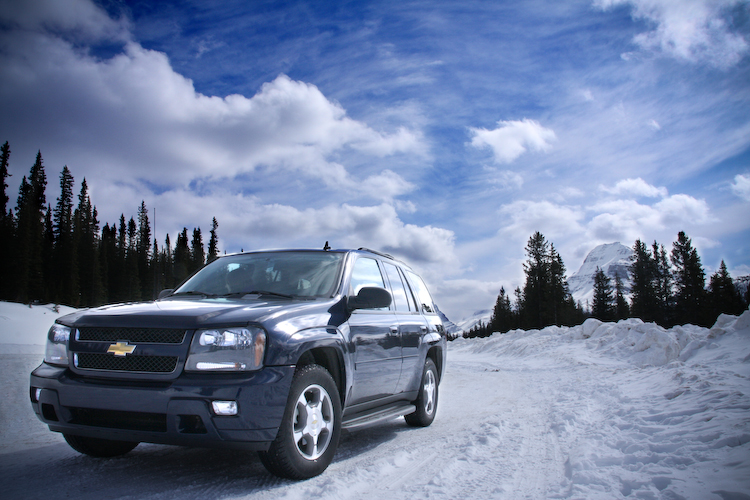 Battery Maintenance
Tools You Need: Wrenches, corrosion-removal fluid, wire brush, rags
Time to Complete: 20 minutes
Estimated Cost: $5
The last item on my list is often overlooked until it is too late. The key to keeping your car running smoothly and efficiently is a good battery connection. Just a few specks of residue on your battery terminals can keep your car from starting, which is the last thing you want when there are so many places to go during the summer. A simple visual check of the condition of your battery will tell you when you need to do a quick cleaning.
Automotive maintenance doesn't need to be scary or expensive. The five items on this list can be completed quickly, with low technical expertise, and at a low cost. The alternative is to pay too much to have someone perform this work for you. Why not save your money for something better?
Thank you to Walmart and Mobil 1 for partnering with me on this list.  Mobil 1™ Annual Protection motor oil can protect engine systems for up to a year, and can be conveniently ordered on Walmart.com.
This is a sponsored post written by me on behalf of Mobil 1 at Walmart. All opinions are my own.