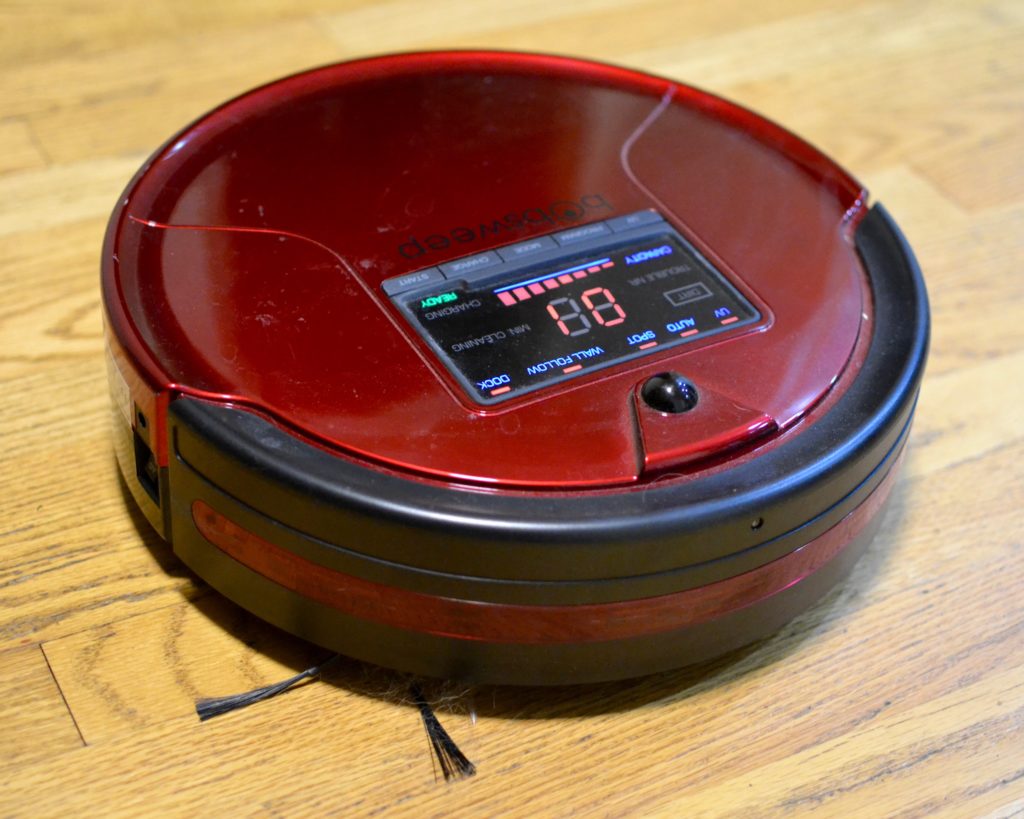 When you have a household with pets and children, the thought of a magic cleaning genie sounds pretty good. We do our best to keep up on the dirt and pet hair that accumulates in our home, but it always seems like the dirt and hair come back just as fast as we can clean up. This is why I was thrilled to try bObsweep, a magical little sweeping device that loves to keep our house clean.
I should start by saying I was skeptical – make that very skeptical – of how well an automated sweeper could clean our house. We have a mix of hardwood and carpet surfaces. We have a sunken in living room and that step is perfect for toppling motorized sweeping devices. We have a child and a dog, which means shoes and toys get left all over the place. It isn't an ideal surface to deal with, which is why I wished bOBsweep good luck as I sent him off on his first mission.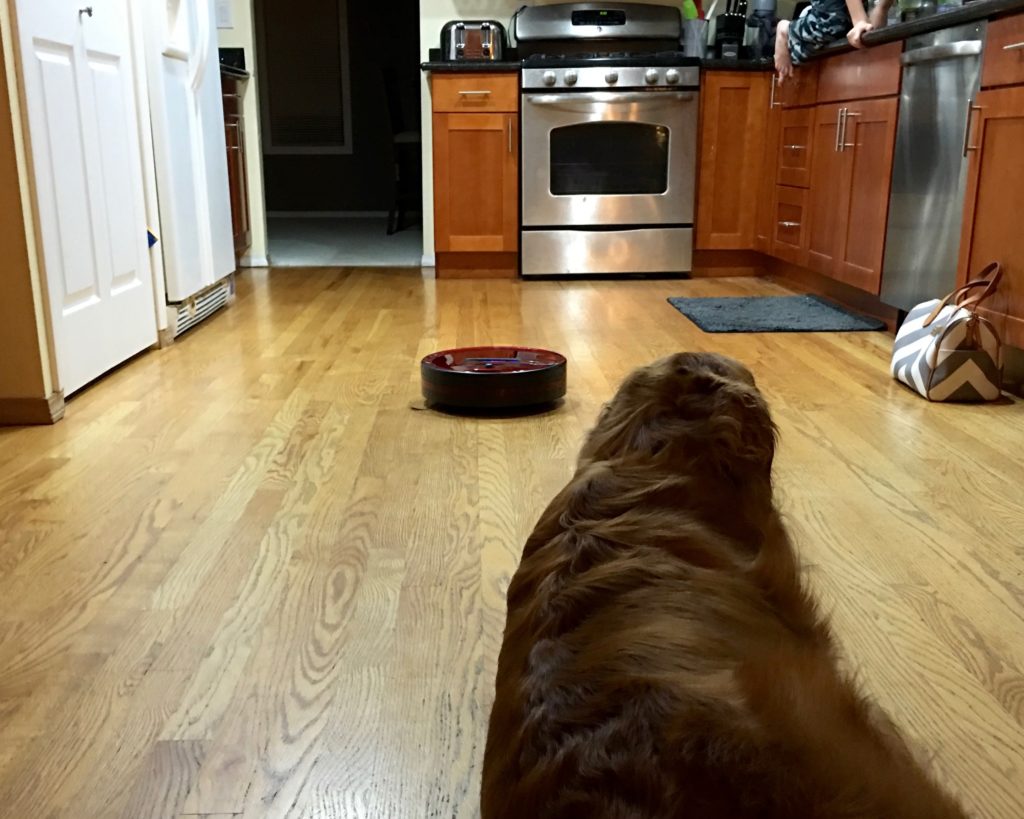 You may have noticed that I am calling Bob by name and even called him a "he." That is because Bob soon became part of our family as he scurried around the house. It is hard to miss him in his bright rouge color – looking something like a ladybug as his sweeping wand spins away the dog hair. We would cheer when Bob found a way to get around the various pet toys and shoes in his way. We would say ouch when Bob bumped into the wall a few times until he found his way out of a tight corner. And there were a few "did you see that" moments when Bob would miraculously avoid an obstacle because of his fancy sensors.
The best thing about bOBsweep is that it really works. I used Bob PetHair for the first time after we had vacuumed the house with our regular upright cleaner. We have a golden retriever who blankets the house with his heavy coat and regular vacuuming is the only way we can keep the place from being overrun with pet hair. I let Bob loose on his first mission and he came back with a dirt trap completely full of pet hair. I was amazed and immediately sold on the idea of having an automated vacuum for our house. Simply put, bObsweep was a magical.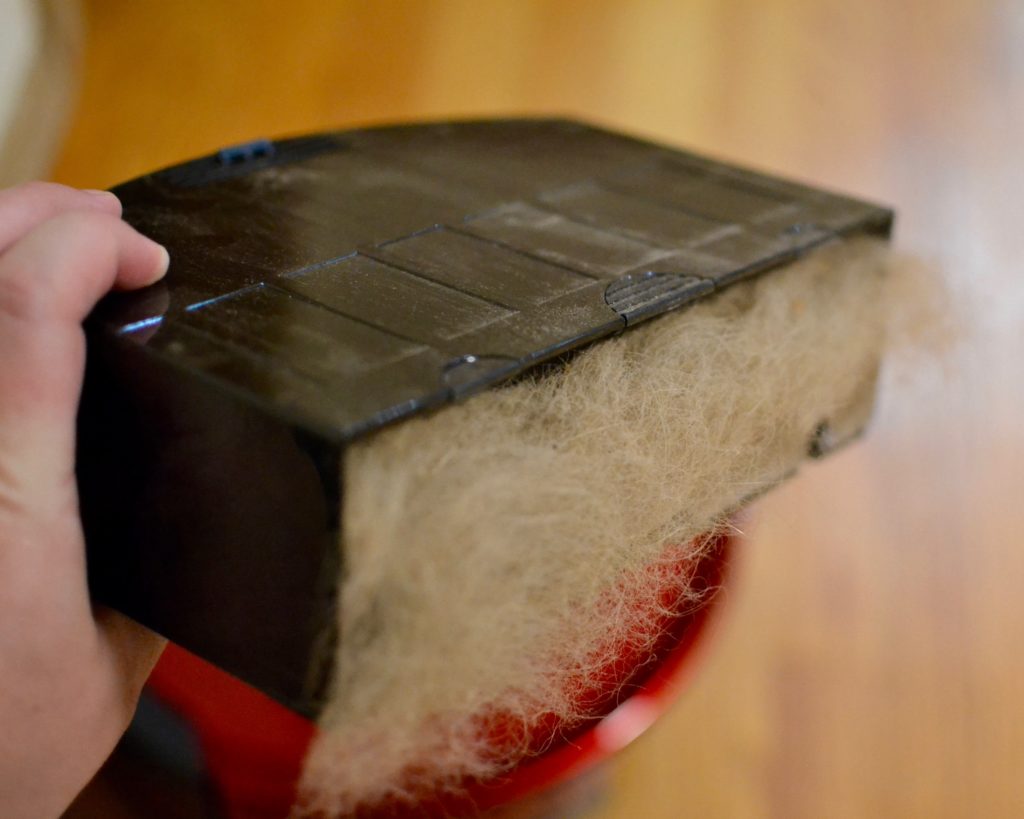 When the nice people at FedEx dropped off Bob PetHair, he came with a docking station (for charging) and a few accessories like a mopping pad for hard surfaces. Installation was pretty simple. I just plugged the docking station into the wall and put some batteries in the remote. I then pushed the button so that Bob would "go home" which instructed him to drive to the dock for charging. After he was fully charged, Bob set off in search of dust and pet hair and has become my favorite gadget in the house.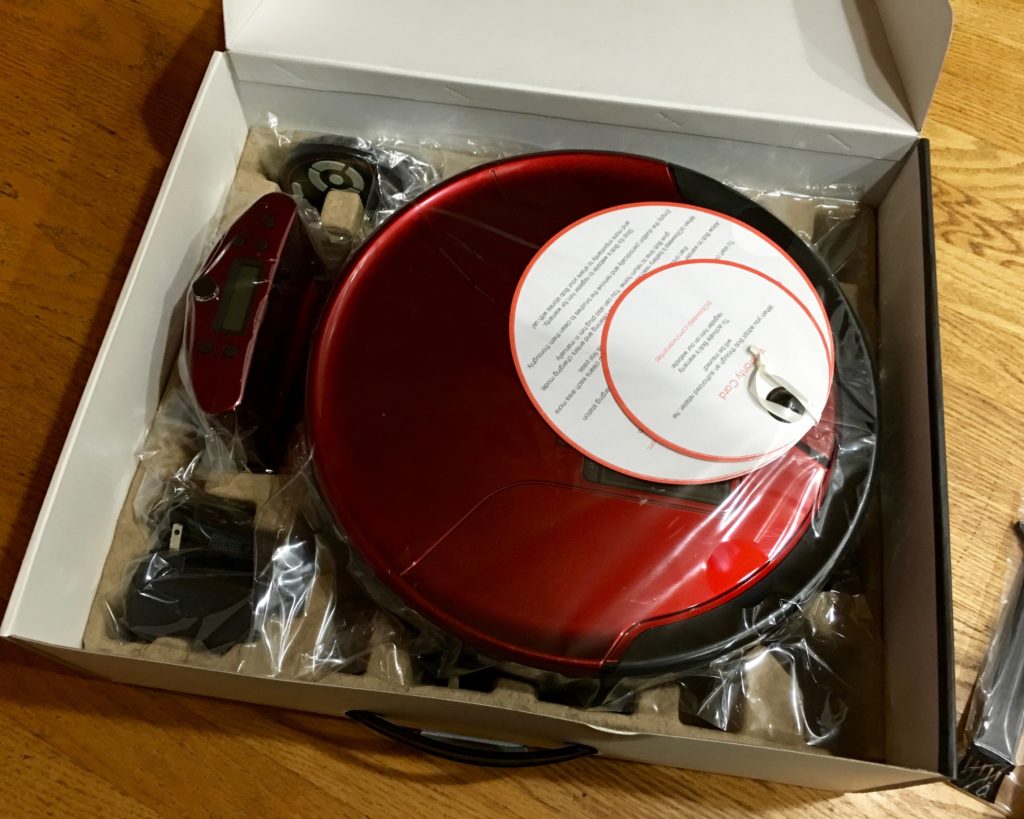 Bob's battery gives it about an hour of cleaning time plus power to slowly find his way home. He usually takes a different path every time he departs his home base. When we were in Orlando for a week, I programmed Bob to continually charge and then sweep the house. We came back home to spotless floors. For everyday use, I have Bob programmed to sweep after we have gone to bed each night. We wake up to find Bob recharging and magical little vacuum tracks in the carpet.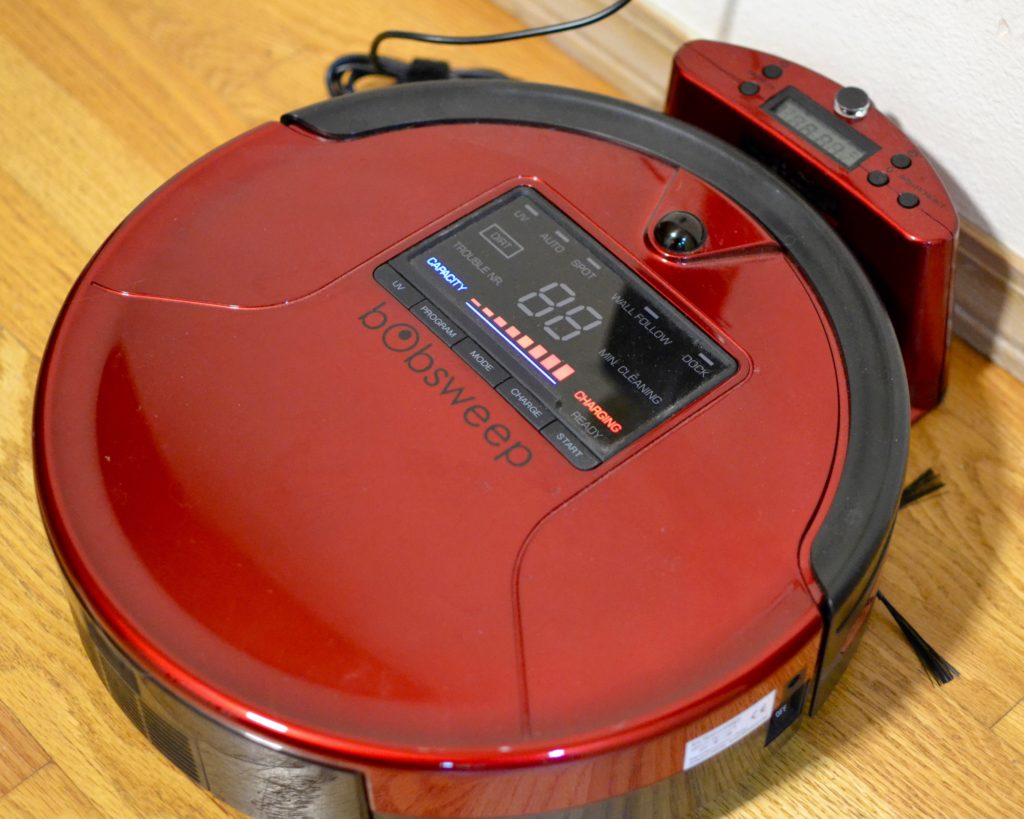 I mentioned earlier that I was skeptical about how well Bob PetHair would work, but that was before I learned about the device's array of sensors. Bob has sensors around the device that allows it to detect walls and steps. Bob will sweep right up to the edge of our sunken living room but he won't ever topple over the step. He will bump into dark colored furniture, but the bumpers on the device just bounce him along without making a mark on the walls or chairs. With higher contrast items like white walls, Bob seems to see those barriers without an issue and will stop before bumping into them.
Bob PetHair has a little round remote, shaped like the robotic vacuum, that you can use to manually control your friend. My son liked using the remote to drive Bob around our kitchen floor when we had the mopping pad attached. I used the remote to have Bob sweep up some spilled cereal, much to my dog's dismay.
Here are a few reasons why our family loves Bob PetHair:
Bob is a heavy-duty cleaning machine that could handle our dog's fur and the spilled kibble around his dish.
Bob has a big dustbin which is what allowed us to leave Bob running while we were on vacation. We emptied it when we got home and commended Bob on all of his hard work.
Bob covers a lot of ground. He has a very large main brush and the sweeping wand clears the dirt from along the walls. Bob has a big battery, which allows him to clean the home for about an hour at a time before a recharge.
Bob as a really neat design. You can clearly see the display on top which shows how much power he has left and how long he has been cleaning.
Bob has lots of high tech features like a UV light, plenty of sensors, a cool remote, and a fancy charging station that lets us program Bob's schedule.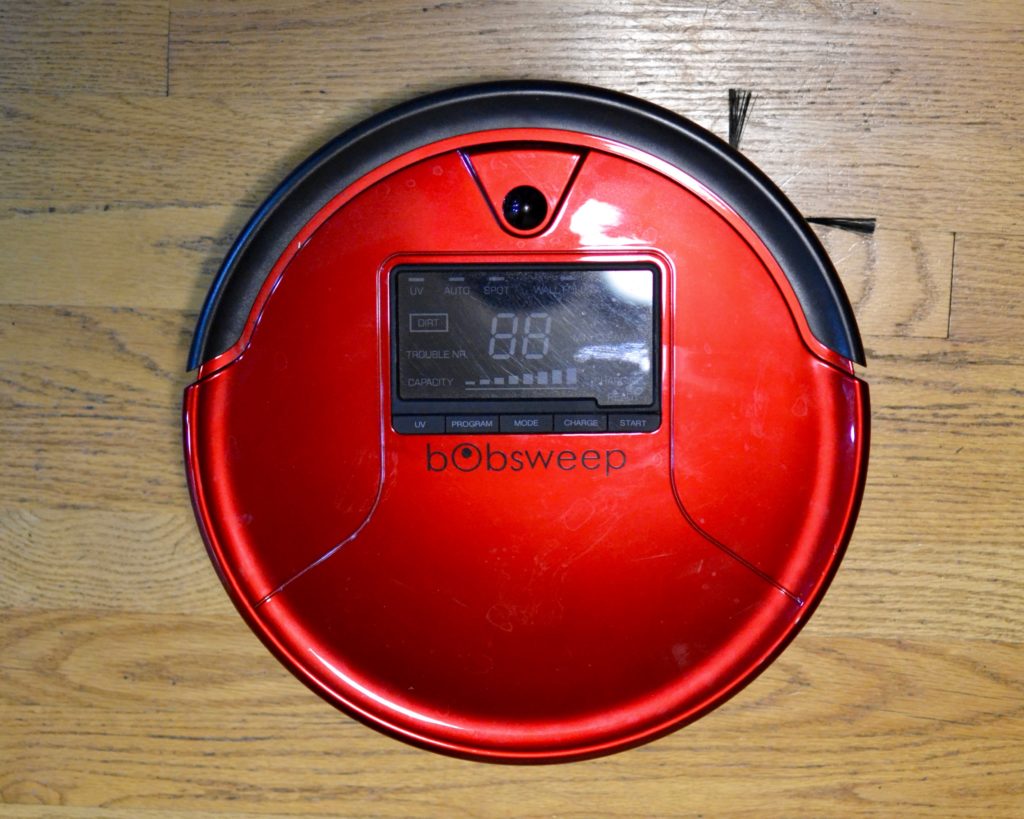 There are a few different types of bOBsweep robotic vacuums that you can choose depending on the needs of your home. For example, the bObi Classic is more compact and can slip under furniture. The Bob Standard is bigger and has all the bells and whistles your inner tech geek could want.
For households like ours with furry children, I can't recommend the Bob PetHair enough. Even if you clean your home regularly, you will be shocked by the amount of pet hair that Bob can pick up. It doesn't take long before you start calling your robotic vacuum by name. When you have a gadget this useful, it is easy to get attached.