With the summer crowds on everyone's minds, the dining packages have added appeal. But is the Fantasmic! dessert package really worth it? We recently received this reader question:
Would you recommend the dessert and special viewing area for Fantasmic? It would be very pricey for my wife and I and our 3 kids (about $270.00). I am wondering if it is worth the money. -Steve
For the Fantasmic dessert package, we recommend that you save your money. An adult ticket costs $60 and a child's ticket costs $50, which adds up fast for most families.
The reserved viewing area is located near the Haunted Mansion, which gives you a less than ideal view of the show. Before the Disney Dream Suite was created, the reserved seats were located in a balcony above Pirates of the Caribbean. But in the current location, the view isn't worth the added cost.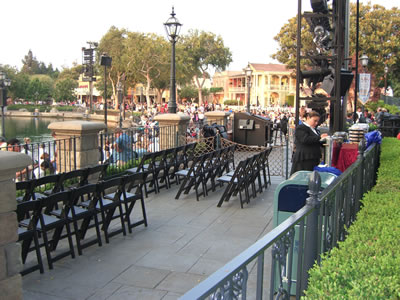 Another thing to consider is that the Fantasmic seats are not reserved. They are made available on a first come, first served basis to all those who pay for the seating. If you arrive close to the show time, you will likely end up sitting in the second row of chairs, which could defeat the entire point of getting a reserved spot.
And finally, the Fantasmic package is only a boxed collection of desserts along with a buffet table offering beverages. The desserts are good and are often more than one person could eat, but it isn't a meal. When you compare the cost to what you get with a World of Color dining package, it makes you realize that the Fantasmic dining package isn't the best value.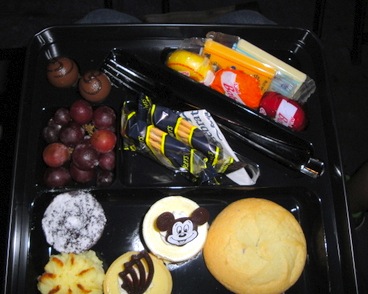 Fantasmic is a great show (and on our must see list), but the crowds have thinned out now that the show is 20 years old. You typically can find decent seats if you arrive about an hour early. Your best bet is to attend the second show of the night, which is usually far less crowded.A little trick is to hang out near the French Market just as the first show ends (about 9:20 pm). Note that on nights where there is a Fireworks performance, they will wait until after the Fireworks have gone off before clearing out the crowd from the first Fantasmic show.After the show concludes, the crowd control people will rope off the area so the cleaning crews can come in. Just hover by the rope and wait for the cleaning crew to finish up (about 15 minutes). When the rope drops, you'll have a free-for-all run to grab a prime spot for the second show. This is an easy way to grab a prime viewing spot without having to wait hours for the first show.Photos via
Dis Boards