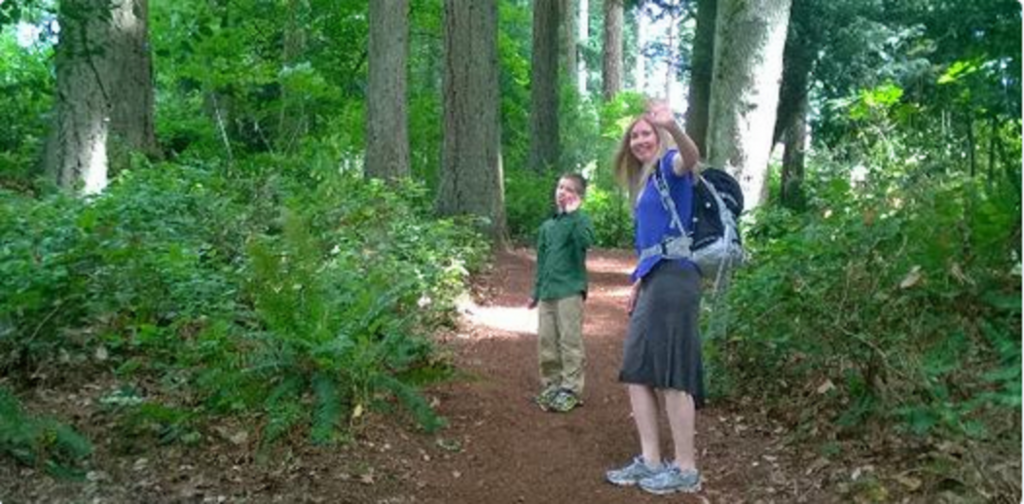 What is the biggest adventure you have ever taken with your children? A mom and her 7-year-old son are walking over 100 miles from their home in the Seattle area to visit Great Wolf Lodge in Grand Mound, WA. You read that right. They are walking the entire way.
Jamie Teevan, the adventurous mom, and her husband have a tradition of taking each of their four sons on individual vacations. This year, her son Cale said he wanted to visit his favorite place in the world, Great Wolf Lodge. But instead of spending the whole week at the water park, Jamie had a bigger idea: a week-long journey to Great Wolf Lodge followed by a day in the water park. Dad will then pick up the weary travelers and drive the family back home.
At first blush, it seems like a crazy idea to trek that far on foot. But when you look at Jamie's updates on Twitter, you quickly realize that this is a really neat opportunity for this mom and son to bond. They are taking in a few sights along the way (like the Almond Roca factory), picking up a few souvenirs, and get to spend a lot of quality time together.
Jamie and Cale are averaging 18 miles a day by following a route near highways. They are taking breaks to eat and rest and are staying the night in motels. In a funny little anecdote on Jamie's Twitter feed, she shared that they were upgraded to the presidential suite at the Bellevue Club (a swanky hotel) and then used the bathtub to do an impromptu load of laundry.
She also shared this gem about their observations along the way: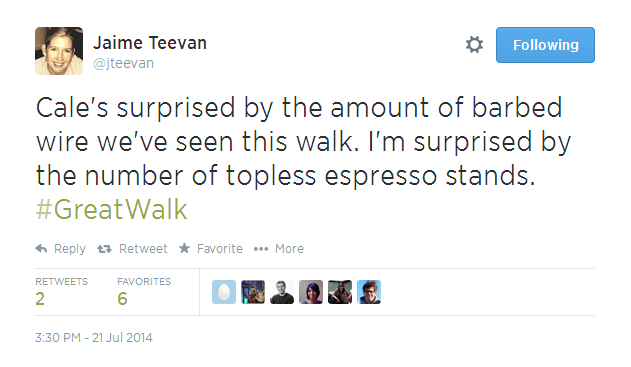 At their current pace, Jamie and Cale should make it to Great Wolf Lodge by Friday and will have walked about 120 miles. The pain from the blisters and sore muscles will subside in time (there is a hot tub at Great Wolf Lodge which might help), but I'm sure the memories from this trip will last a lifetime. Cale is a very lucky kid to have parents like this.
Photo via Jamie Teevan