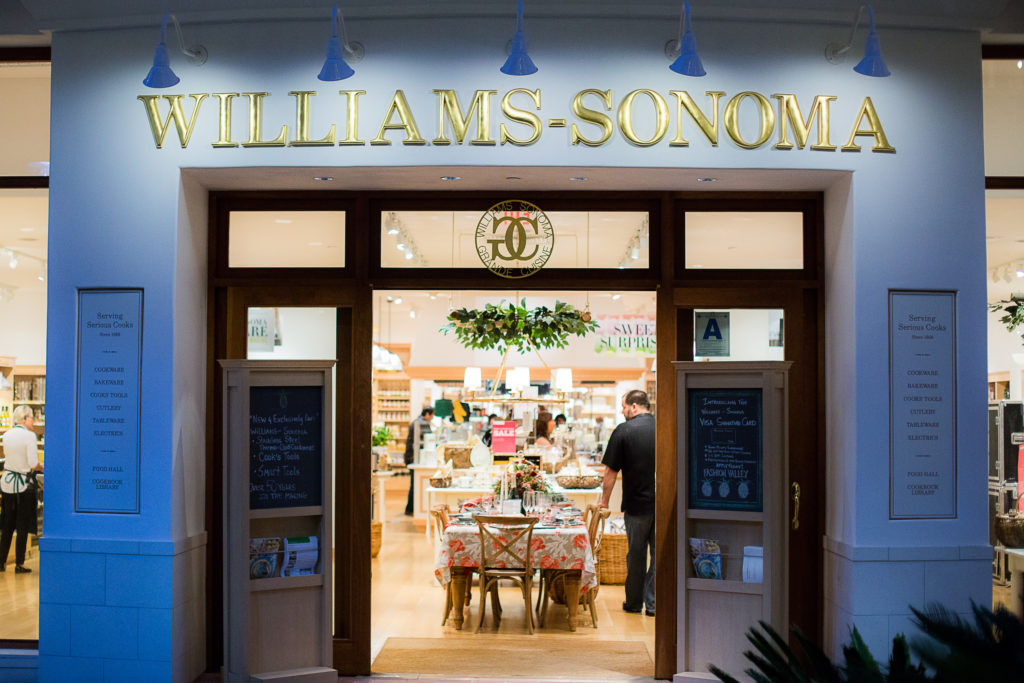 Seattle chefs will soon have a new place to find cookware and an assortment of local food items. On June 24, Williams Sonoma will open a new store in Seattle's University Village and they have a full weekend of events planned to mark the occasion.
The store will be a dual concept, with Williams Sonoma's classic kitchen and food products, in addition to an items from Williams Sonoma Home. The store will feature locally crafted foods from businesses in the greater Seattle areas, which is sure to delight Seattle's foodies.
There are several events planned over the opening weekend, such as a Thaifusions Cooking Demonstration with Chef Max Borthwick, a Local Artist Pop Up featuring Seattle Based Artist/Etsy Artist HoneyBerry Studios, and a meet and greet with James Beard Award winning Chef Renee Erickson of Seattle's The Whale Wins (a really great restaurant, by the way). The store will also host an American Girl Birthday Party Event, design technique class with local blogger Coco + Kelley and a Summertime Cooking Class that will show techniques for cooking with a cast iron.
The new Williams Sonoma in University Village is located at 2530 NE University Village, Seattle, WA 98105. Below is a look at the calendar of events for the opening weekend. 
Saturday , June 24
9:00am – Ribbon Cutting
12:00-2:00pm – Thaifusions Cooking Demonstration and "Meet the Maker" with Chef Max Borthwick (time to be finalized)
12:00-4:00pm – Williams Sonoma Local (featuring new local Seattle makers)
2:00-4:00pm – Join Cassandra from Seattle's Coco + Kelley blog to help decorate your space. Learn tips and reserve one-on-one styling appointments. Reserve your spot.
5:00-6:30pm – Grand Opening Celebration
Navy Strength Bar Pop Up with Oysters Xo
15% of the proceeds from the evening benefit United Way of King County (a beneficiary of NKH)
6:30pm – 8:30pm – Meet James Beard Award winning Chef Renee Erickson of Seattle's The Whale Wins, The Walrus & the Carpenter, Barnacle, Bar Melusine, Bateau, and General Porpoise Doughnut & Coffee
Sunday, June 25
10:00am – Ina Garten's Summertime Cooking with Cast Iron ($30 includes a Lodge Cast Iron Pan)
12:00pm – Fortnum & Mason High Tea ($30 includes a Fortnum & Mason Tea Tasting and Tea to take home!)
2:00-4:00pm – Local Artist Pop Up featuring Seattle Based Artist/Etsy Artist HoneyBerry Studios