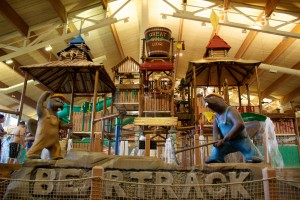 Plans are moving forward for a Great Wolf Lodge to be built just a few miles south of Disneyland. Great Wolf's hotels with attached, indoor water parks have been very popular with families and the new location likely will be a hit when it opens in California.
The hotel and water park is planned to be built on a parcel of land in Garden Grove that is currently occupied by a small strip mall. The city of Garden Grove has been struggling for years to find a suitable occupant and to receive the necessary approvals to move forward. With city approvals and state approvals finally in place, construction on the project is expected to begin in 2013.
Update (Feb 2014): At a State of the City luncheon, Garden Grove Mayor Bruce A. Broadwater gave an update on the anticipated groundbreaking for Great Wolf Lodge. The Mayor announced that Great Wolf Lodge is expected to break ground this spring. City officials later specified March 2014 as the target month for the hotel's start of construction. The city has not provided an update on the anticipated opening date.
When completed, Great Wolf Lodge will offer an 11-acre, 600 room hotel with attached water park. The water park will offer indoor and outdoor play areas, which means the water park can be enjoyed year-round. This also solves one of the operational issues of water parks, that they are typically seasonal businesses.
The new Great Wolf Lodge is expected to generate $8.5 million in annual tax revenue for the city and create up to 1,000 new jobs.
It will be interesting to see how Great Wolf Lodge's water park fits into the typical vacation itinerary. Families primarily travel to Orange County to visit Disneyland and spending time in the theme parks is often the priority.
Great Wolf Lodge's water park will be more than enough to occupy a family for half a day to a full day, which means we will likely see a shift in how families spend their time. Instead of spending a day visiting local attractions like Knott's Berry Farm or Universal Studios, we may see families choose to spend a day in Great Wolf's water park.
Photo via James Fleeting