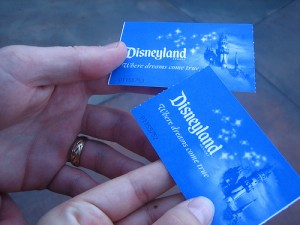 Here's a warning: Don't fall for the Disneyland free tickets Facebook hoax that's going around–even though 63,000 people already have.
This warning comes from FaceCrooks.com, via Web Wise Kids, an organization that helps educate kids and their parents about computer use.
The Facebook invitation–which does not come from Disneyland or anyone affiliated with Disney-– offers you free tickets for joining and inviting friends. Of course, if you fall for this scam, the crooks get your personal info and you will never get the promised tickets.
Scams that promise free tickets to Disneyland are common because people are always looking for a discount on theme park admission. A similar scam (that surprisingly still makes the rounds) is the fake email from Walt Disney Jr. that promises free tickets in exchange for forwarding the chain letter. As with anything that sounds too good to be true, it usually isn't all that it seems.
Why do companies make these offers?  To harvest the information you're providing them, including email addresses, survey data and more.  They appeal to young people, who are less sophisticated and more likely to provide tons of personal information online.
Photo via Get Away Today