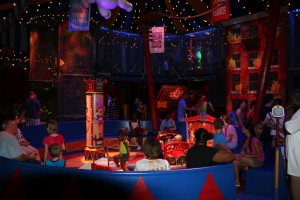 No one likes waiting in line. Fortunately, the brain trust at Disney has found a way to make waiting in line better and they are giving it a try at the Magic Kingdom's Dumbo the Flying Elephant attraction. The genius of this new queue is that instead of standing in line, you get to hang out in a play area until it is your turn to go on the ride.
Most people are familiar with Disney's Fastpass, where you take a ticket with a reservation and return to the ride late. But with the Dumbo queue, you get a pager (similar to when you check in at a restaurant) and then let your child play while you wait for your turn.
This is a smart idea, especially since the Dumbo attraction draws in a younger crowd and the line moves slowly. Now parents can keep their children entertained with a variety of age appropriate activities (and hang out in the air conditioning) instead of waiting in a slow moving line.
Here's how it works:
Guests will enter the standby line and head into the Big Top.
Cast members ask how many are in your party and then will give you a pager.
Your family can then play with all the interactive experiences until it is your time to ride. Your pager will buzz to let you know when it is your time to soar with Dumbo.
The extra bit of magic is that Disney made separate play areas for various age groups. In the toddler area, there are animal footprints that you can stomp on to make noises. For older children, there is a climbing play area where you can scale the "burning building" from the Dumbo movie. And for parents, there are plenty of benches where you can grab a few moments rest. There really is something for everyone.
Below is a photo gallery of the big top. What do you think of Disney's new approach to lines?
[justified_image_grid caption=off]
Photos via DisUnplugged