In the middle of a family vacation, wouldn't it be nice to have someone watch the children so that mom and dad can have a romantic dinner for two?
Tucked inside Disney's Grand Californian Hotel is Pinocchio's Workshop, a licensed child care facility open seven days a week, from 5 p.m. to midnight. The center accepts children ages 5 to 12. Disney operates the facility and it is staffed with Disney cast members, hand picked for the position.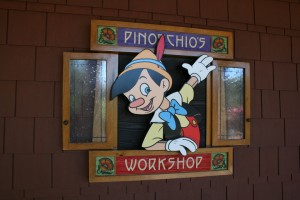 As a parent, it can be difficult to leave your children with someone you don't know. The benefit of Pinocchio's Workshop is that the facility is owned and operated by Disney, so you can trust the staff. The maximum capacity for the center is 12 children, which keeps the staff- to- child ratio of one to 12 at minimum. Often times, the ratio is six to one as Disney seldom staffs the center with only one cast member. The staff are certified in CPR and must submit to fingerprint screening to check for past and current criminal activity.
When children arrive at Pinocchio's Workshop, they enter through a swing gate that is otherwise kept locked. As each family arrives, the cast member takes a photo of the children and their parents. Disney uses these photos as a security measure to ensure that children only leave with the adults authorized to take them home. Parents have the option of leaving their cell phone number or taking a pager before leaving for the evening, so that you can be reached in case of emergency.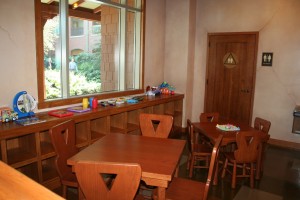 The environment of Pinocchio's Workshop is reminiscent of a classical European carpenter's workshop, and the carpeting is actually patterned to look like a hardwood floor! In this main area, children can participate in arts and crafts projects such as painting, coloring, and beading. Nearby bookshelves house board games, play dough, puzzles, books, and toys. The Disney cast members often will read stories to the children or help engage them in an arts & crafts project.
Older children will most likely gravitate to the "electronics room" which offers several computers and video game systems. Age- appropriate software from Disney is offered on all of the devices. A theater with a giant screen TV completes this area, where children can choose from several G-rated Disney movies.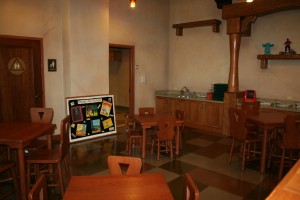 The location also has a kitchen area, which allows the staff to prepare a snack of fresh fruit and yogurt for children. Parents of children staying over four hours are strongly encouraged to purchase an evening meal for an additional $5. Children choose from five entrees: hot dog, hamburger, grilled cheese, chicken nuggets, or peanut butter and jelly. All are served with milk and vegetable sticks, usually carrots or celery. Disney can also accomodate any dietary restrictions. Just let the cast member know about the restrictions when dropping off your children.
Pinocchio's Workshop keeps late operating hours and some children may get sleepy. Cots are set up in quiet area behind the cubbies for children who want to nap. The cubbies are low so CMs can easily monitor this area while little ones rest.
Pinocchio's Workshop has its own restroom, themed appropriately for the center. The wallpaper in the restroom is fun; alphabet letters provide a charm appropriate for a child-centered environment while the pattern and color of the paper blend perfectly with the decor of the Grand Californian. The restroom has a slightly lowered toilet, although not too low, since it also accommodates children as old as 12.
The one downside is that the service is available only for those staying at the Disneyland Hotel, Disney's Grand Californian or Paradise Pier Hotel. Those staying at the Grand Californian can make reservations for Pinocchio's Workshop up to two months in advance, while guests staying at the Paradise Pier Hotel and Disneyland Hotel can make same- day reservations, pending space availability.
Pinocchio's Workshop charges $9 per hour per child with no minimum stay, and up to the full seven hours the center is open at night. A three- hour minimum fee will be charged for guests who fail to show up or cancel their reservations with less than 24 hours' notice.
For children under 5 years of age, all Disneyland Resort hotels offer baby- sitting services through an outside contractor. This is also an option to consider for those who prefer to have a private sitter in their room.
For peace of mind and an opportunity for a nice night out, Pinocchio's Workshop is a wonderful service. You can make a reservation by stopping by the Guest Services desk at the Disney hotels or calling (714) 635-2300.