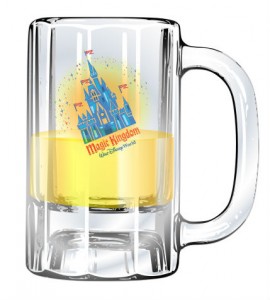 Breaking with more than 40 years of tradition, the Magic Kingdom at Walt Disney World will begin selling beer and wine this fall. The adult beverages will be offered during dinner service at Disney's new Be Our Guest Restaurant in Fantasyland.
Although the three other Disney parks in Florida offer adult beverages, alcohol sales have been taboo at the Magic Kingdom, mainly because of tradition. In hindsight, the lack of alcohol seems odd when you consider the number of upscale dining locations within the park.
Walt Disney himself never had an issue with alcohol. During his era, it was very common to have a drink at the office. I once had an opportunity to speak with Lucille Martin who was Walt's secretary in the 1960s. She recounted the common afternoon drink of scotch and water over crushed ice. I'm paraphrasing, but she said Walt commonly asked for more scotch and less water.
Walt's Main Street apartment at Disneyland had a fully stocked bar while he was alive. The Tom & Jerry bowl and cup set is still in the apartment and is a reminder of Walt's fondness for recreational drinking. It is hard to say if he personally would object to alcohol being served to the general public inside Disneyland or the Magic Kingdom. But it would be foolish to say the man had any moral objections to having a drink with dinner.
Alcoholic drinks are among the most profitable items for any restaurant (usually at 22% profit margins), so it makes financial sense for Disney to add beer and wine to the menu. The bottles of wine are priced from $35 – $99, which will dramatically increase potential revenues for this new restaurant.
During my time at Disneyland, I remember hearing that guests frequently would request beer and wine at the Blue Bayou restaurant. There was something about higher end table service restaurants that made alcohol feel appropriate. The Blue Bayou even serves O'Douls non-alcoholic beverages because of how frequently beer is requested.
I don't see an issue with Disney offering alcohol at table service restaurants. It is something many people come to expect at a restaurant and can enhance the dining experience.
My only concern is that this could be a test that could lead to a proliferation of alcohol sales throughout the Magic Kingdom and Disneyland. I like the idea of having drinks with dinner, but I don't want to see a proliferation of beer carts or patrons wandering the park with cups of beer in hand (like we currently see at Disney California Adventure and Epcot).
The decision to offer beer and wine will upset some, but there is an equal contingent who will be happy to see this added to the menu. Beer and wine sales likely won't make people change their minds about a Disney vacation, but it is a big break in tradition for this family oriented company.
Image via The Disney Blog