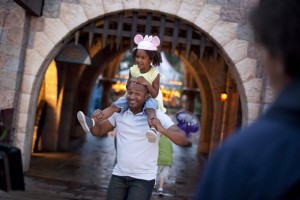 Wouldn't it be nice if there was an installment plan to pay for a Disneyland vacation? With the cost of a Disney trip always on the rise, many families need a way to finance their trip.
An often overlooked option is to book through the Walt Disney Travel Company, pay a $200 installment, and then make payments as you are able. The Disney company doesn't make a big deal of this option, but it is one of those hidden gems that more people should use.
While many people use credit cards to finance their trips, you can avoid having to pay finance charges by going with this simple payment option. Disney does not charge any interest while you pay the balance. Plus, you won't be saddled with debt after the vacation because everything is paid for in advance.
I booked our family's upcoming Christmas trip using this method. I just made up my own payment schedule by dividing the total cost of the trip by the number of months until our vacation. I then go online to make a payment each month using the confirmation number for the reservation.
There are two things to note about using this payment plan method. First, the package must be paid in full 45 days prior to arrival.  (This differs if you make a 'room only' reservation, where the room must be paid for upon arrival to the Resort.)
Second, I recommend purchasing the travel insurance. It is an additional cost, but it is worth it in case you need to cancel your vacation for any reason. If you just need to reschedule your vacation, give the Walt Disney Travel Company a call and they will accommodate you. There might be a change fee if the room rates are more expensive than your original trip, but this is a much better option than losing out on any payments you may have already made. Remember, Disney wants you to ultimately pay for your trip and take that vacation of a lifetime. If things come up and you need to adjust the date, give them a call and they'll work with you.
Another financing tip is that you should plan for the trip you can afford today, not for the trip you think you can afford months from now. While it can be easy to plan big when you are just making payments, it is a lot smarter to pay for what you can afford now. You can always do an upgrade down the road.
Most people don't realize this, but Costco and AAA use the Walt Disney Travel Company's booking engine. The neat part about this fact is that you can book your trip through Costco or AAA to get some added perks, but still get the benefit of the $200 deposit and payment options just as if you booked directly through the Walt Disney Travel Company.
In my family's scenario, we booked through Costco.com and got the benefit of a $50 gift card and free character breakfasts for the family. If we had booked through AAA, we would have received free parking instead of the gift card. Going through WDTC directly, we would have just received the character breakfast.
Disney does not send you monthly bills, so there is some discipline involved in paying for the vacation in installments. But if you are organized and want a way to pay for your Disneyland trip in installments, this is a fantastic option many don't know even exists.
Images via Disney